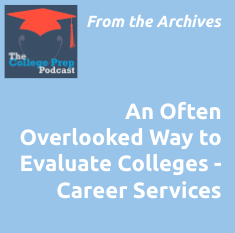 The whole point of going to college is to get a job, right?!
Yet families often forget to evaluate their prospective college's career services. Join podcast parent Lydia Schulz as she details everything she learned about how colleges help students get jobs.
Specifically, the crew discusses:
the two most important areas to evaluate in a college's career services department,
what has changed over the years in regards to the kinds of career support college's provide,
a complete checklist of 8 areas to evaluate to feel more confident about your school choice's ability to help your student find a job,
and more.
Here is the fabulous document that Lydia created for us, for your reading pleasure.
This episode originally aired as episode 266 on May 27, 2019.
Podcast: Play in new window | Download
Subscribe: Apple Podcasts | RSS