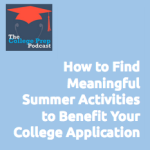 Summer is a great time to grow as a person, pursue your interests, and create a well rounded application for college. What activities are the most meaningful, and which ones are just a waste of time?
On today's episode of the College Prep Podcast, we discuss these four types of meaningful summer activities, and provide suggestions for how to find them:
Summer School: Good reasons to take summer school include taking make up courses to raise grades, exploring interesting topics,  and making time for other activities during the school year. However, Megan also has a specific warning to families about what NOT to use summer school for, so tune in to hear that.
Work: When finding a summer job, it can be very beneficial to try to find one that offers teens 30-40 hours/week. Of course, it's wonderful to be able to work in a field of interest, but even a job at McDonald's can look impressive on a college admissions. Tune in to hear the explanation why!
Organized Programs / Camps: Organized programs help students develop a talent in more detail, explore new topics, and "test drive" a college or a major. Gretchen tells a story about an unmotivated client who found his passion during one of these programs.
Self-Designed Options. This is a catch all category that includes travel, reading, writing, business start ups, volunteering, and more. Summer is a great time to be scrappy, follow your curiosity, and create unique experiences.
If you have any questions about meaningful summer activities, please email us at collegepreppodcast (at) gmail (dot). com.
Podcast: Play in new window | Download
Subscribe: Apple Podcasts | Android | RSS