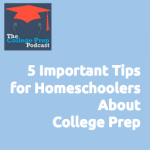 Students who homeschool can stand out from the crowd during the college prep process, but only if they are intentional about how to design their experience with college in mind.
Megan talks our homeschool listeners through the following 5 steps:
How to develop your four year academic plan,
How to take the right higher level courses,
How to work the PSAT, PLAN, ACT & SAT into your academic plan,
How activities are the biggest benefit or the biggest drawback of homeschooling, and
How to get stellar guidance in the college search process
If you have any additional questions about homeschooling, studying, and the college search process, please email us! We want to know!
Podcast: Play in new window | Download
Subscribe: Apple Podcasts | Android | RSS