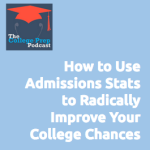 Surprisingly few students applying to college understand how to use college statistics wisely to help them hone their college lists — and guarantee that they'll find a school they'll love that they can easily get into.
In this episode, Megan breaks down how to use the admissions statistics pages on college websites to radically improve your college chances. Specifically she'll cover:
how to find the admissions statistics for colleges you are considering
how to interpret the stats to know whether you have a chance of getting in
how to know which colleges to apply to based on the stats you find
Here are the colleges and stats that Megan uses as examples in this episode: Columbia University, Notre Dame University, Juniata College,  and Elizabethtown College.
Podcast: Play in new window | Download
Subscribe: Apple Podcasts | RSS