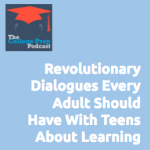 The very skills students need most to succeed in college are the ones that few adults teach them. But what if every parent, teacher and tutor mastered several easy conversations, and engaged teens regularly in these dialogues? Students' academic success would likely sky rocket. 
In this podcast episode, Gretchen lays out her "wish list" for conversations all adults would have with kids. Specifically, she ask adults to equip themselves with the following information:
5 revolutionary processes that happen in the brain that every adult, and student, should understand.
The reason why learning styles aren't helpful, and what to say instead to encourage students to be active learners
Questions to ask kids to help engage their metagcognition (so adults to less thinking for students)
And more!
For more information about the training Gretchen is offering adults who support kids (with a special emphasis on teachers, tutors, and parents), go to www.gretchenwegner.com or email her direction at gretchen [at] gretchenwegner [dot] com.
Podcast: Play in new window | Download
Subscribe: Apple Podcasts | Android | RSS