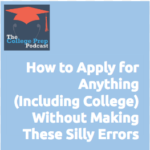 Megan is shocked by all the errors she's seeing on scholarship and college applications!
To help you avoid these mistakes, she's compiled all her advice into this one quick podcast episode. Tune in to discover what these errors are and how to avoid them — so that you get into the college, scholarship program, or job of your dreams.
More specifically, she and Gretchen discuss:
Four major reasons why students make so many errors, which include (1) rushing, (2) being over confident, (3) not thinking, and (4) not understanding how you will be evaluated, and
Five specific kinds of errors are most common
How to fix or avoid these errors when you make them.
Podcast: Play in new window | Download
Subscribe: Apple Podcasts | Android | RSS