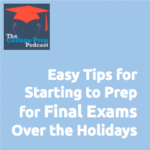 Thanksgiving is coming up soon, as are the winter holidays.
If you get started studying for finals now (or over the winter holidays, if your finals aren't until the end of January), you'll save yourself a lot of headaches later — plus, you'll learn the information better! Today Gretchen shares:
How to put in more effort to studying without feeling like you're working too hard
The importance of testing yourself using "spaced retrieval", and a few simple ways to do this over the holidays
How to get yourself organized so you don't waste time later finding important study tools
A crucial tip for how to use your notes so that you're actually learning (rather than just faking it)
and more!
For more strategies about getting prepped for finals, check out Gretchen Wegner's Anti-Boring Approach to Powerful Studying.
Podcast: Play in new window | Download
Subscribe: RSS