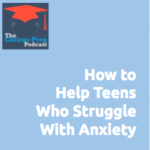 Anxiety in teens is on the rise! At least, this is Megan and Gretchen's experience working with students all over the country.
Guest expert Yshai Boussi, a family therapist, helps us understand more about this phenomenon.
In this super insightful discussion, they discuss:
The difference between anxiety and stress
Why anxiety can sometimes be helpful
What causes anxiety in teens
How parents can help students with their anxiety
How to be involved in your student's life without micromanaging and accommodating for their anxiety
The free resource that Yshai recommends for teens is Reach Out, a website chock full of useful advice for teens about how to get through the hard times.
 Yshai Boussi is a therapist in private practice specializing in adolescence and family therapy. Yshai has been working with adolescents for 20 years. Over the last 15 years, Yshai has sat with and helped hundreds of anxious and overwhelmed teens and parents as a family therapist. Find out more at www.portlandfamilycounseling.com.
Podcast: Play in new window | Download
Subscribe: RSS