Colle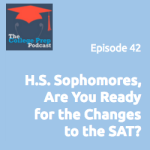 ge Board is rolling out drastic changes to the SAT starting next spring, which will have grave effects for current high school sophomores (and other students too).
Tune in to today's episode to find out what to do about these changes so students don't hurt their changes at college success.
Megan Dorsey will walk you through topics such as:
How exactly the new SAT is going to be different
Why they are changing the format in the first place
The major differences between the SAT and ACT, and how to choose which test to take
The danger to high school sophomores who will be the first expected to take the new test
A timetable for students with action steps starting NOW so that you don't risk low scores that get in the way of college prospects
If you're interested in sessions with Megan to help you make your plan of action for acing the SAT, please visit her website.
Podcast: Play in new window | Download
Subscribe: RSS