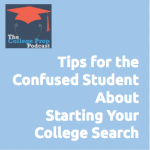 Are you a student who has zero idea how to start thinking about college? How do you begin the college search process when you have no idea what you want to major in?
During this episode, Gretchen asks Megan's advice about a client who is a junior in high school. After being a bit of an academic mess his freshman and sophomore years, he's finalizing turning his grades and habits around; however, he has no idea how to start thinking about the college search.
Here's the excellent advice Megan shares about how to work with students like Bart:
How to go on a college visit that gets students thinking about higher education
A checklist for what to look for when you're visiting a college website for the first time
How to end your junior year with a list of your top 20 school in which you're interested
Whether personality tests are a good measure for what majors you might consider
and more!
Podcast: Play in new window | Download
Subscribe: RSS