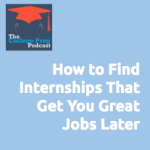 More employers are looking for students fresh out of college who have work experience.
Internships are the best way to gain this experience, and there are plenty to be found, if you know where to look.
Guest expert Sharice Kent, who is a millenial career coach, knows first hand how to get great internships. Listen in as she shares :
why graduating in four years (rather than staying in for six) saves you $40K a year
why internships are so important for the college experience (and for setting you up to get great jobs later)
where to find the best internships, for both college and high school students
how to make sure you're getting the most out of your internships
how many internships is the right amount to set you up for career success after college,
and more!
Sharise Kent has been motivating, guiding and coaching students to academic and career success for nearly 15 years. She works with high school and college students as well as recent college graduates to land internships and plan their careers. She spent over a decade in college admissions and 5 years managing a national internship program where she placed over 400 interns with major media companies. She is currently a freelance writer and blogger who talks about all things internship. You can find out more about her at www.theinternshipmanual.com. You can also find her on twitter as @skentcoach, Facebook as sharisekent and Instagram as skent007.
Podcast: Play in new window | Download
Subscribe: RSS