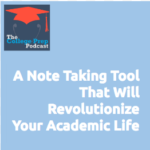 Do you have a good way to organize your your research — both the digital and nondigital variety — as well as other aspects of being a student?
Evernote is a surprisingly robust note taking tool, which we learn how to use under the guidance of guest expert Darren Layne.
In this fun discussions, they discuss:
What Evernote is and how to use it
How to use it for the first time when you feel intimidated
Different possibilities for how to organize Evernote
Additional plug-ins to use with Evernote
Additional free research resources, including Zotero, WorldCat, and Archive.org.
Darren Layne studied history at UC Berkeley (BA), Scottish History at University of Edinburgh (MSc), and Scottish History at University of St Andrews (PhD). He is passionate about expanding access to historical materials through the creation and curation of a custom-built prosopographical database of persons connected to the final rising. He also blends traditional historical approaches with Digital Humanities and critical data awareness. Darren is pro-interdisciplinary collaboration, hugely pro-technology, pro-Green Open Access, anti-historical elitism and anti-intellectual snobbery. To find out more about Darren, visit www.jdb1745.net, check him out on twitter at @JDB1745, or on Facebook at www.facebook.com/jdb1745.
Podcast: Play in new window | Download
Subscribe: RSS