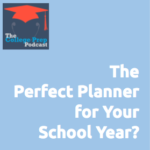 Are you searching for the perfect planner to help you organize your due dates and assignments for the next school year? One that is oriented towards a student's real-life needs?
Lesley Martin of Class Tracker joins Gretchen to describe her newest planner for students, and why it might be just what you've been missing.
During this guest expert interview, we discuss —
What makes planners for schools different than planners for individual students
The most important elements to have in a planner for students
Whether paper planners are still relevant in this online world
The link between planners and solving procrastination
How to get your planner set up for a rockin' school year
and more
Lesley has over twenty years experience in education as a high school teacher, academic coach, product designer and author. Her two books, "Where's My Stuff?" And "Make the Grade"  focus on teaching students the skills and strategies needed to be successful in school in life. Currently Lesley splits her time between her private practice as an academic coach and running ClassTracker, the company she founded 10 years ago that produces custom academic planners for schools. This year, Lesley is launching her first planner product sold directly to students and their families as well as a new planner designed just for teachers. Visit www.myclasstracker.com for individual planners and www.classtracker.com for school planners. 
Podcast: Play in new window | Download
Subscribe: RSS