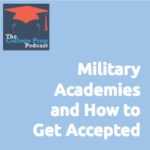 Military academies require a lot of extra work to apply to, but it can be worth it for the high quality free education they provide if you get in.
In this episode, Megan answers this listener question and details the steps it takes to apply and get accepted to these kinds of schools:
Dear Megan and Gretchen,
I have begun to listen to you at the end of this summer because I wanted to improve my act and sat score although I haven't taken the sat. The start of this summer I've had the motivation to attempt and get into a military academy as in the naval academy and Air Force etc. I've found the basic requirements to get into those types of schools and have been working my way too achieve those.
I wanted to ask if there is anything you guys know that will help me have a better chance to get accepted. My current act score is a 24 but haven't taken it in a while and am about to go into a class for it. My GPA is around a 3.7 but have a lot of upcoming AP classes and am determined to get all A's. Lastly, I feel I have an edge up because by the end of high school I will have studied Chinese for 8 years with two AP Chinese classes.
I wanted to know what you guys think and I respect your drive to better students lives by providing them quality information. Thank you!!!
Braxton
Podcast: Play in new window | Download
Subscribe: RSS