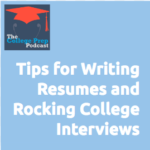 College interviews are not as big a deal as you think, but there are still some easy tips for how to knock them out of the park.
In fact, it is nearly impossible to screw up your interview unless you commit some basic faux pas.
Listen in as Megan provides some tips, including:
what exactly a college interview is for, and how the basic process works
why the college interview is  are more casual than they think
how to incorporate a resume into your interview, and what to include on your resume
how to make it a 2-way conversation and what kinds of questions you can ask them (since you're also interviewing them about whether you want to go to the school in the first place!)
basic interview etiquette, including how to dress, and
additional hot tips too!
Podcast: Play in new window | Download
Subscribe: RSS