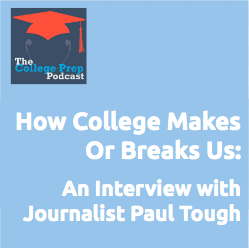 Does college still work? Is the system designed just to protect the privileged and leave everyone else behind? Or can a college education today provide real opportunity to young Americas.
Join us for an interview with journalist and author Paul Tough, who has just published The Years That Matter Most: How College Makes or Breaks Us. Specifically we discuss:
A summary of Paul's main ideas about the huge equity gap in American higher education, and some of the contributing factors
How Paul was inspired to do such intense research about these factors
A case study from University of Texas that shows one institution's efforts to reduce this equity gap
How Paul thinks about his own children's education differently as a result of doing this research,
and more!
Tune in, and let us know what follow up ideas/questions/concerns you have. We might be able to have Paul on again for a follow up conversation. If that happens, we'd like to include your questions!
Podcast: Play in new window | Download
Subscribe: RSS