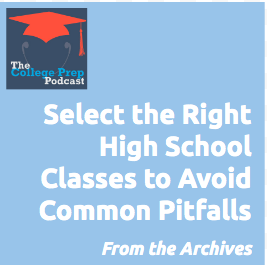 This episode is a re-broadcast of episode 30 originally published on February 30, 2015. However, the content is still relevant today! Enjoy.
It's course selection time at high schools across the country! If you're the parent of a rising freshman, this podcast is a must-listen, as we walk you through the ins and outs of how to choose courses in high school that prepare your student for college.
First, it's important to make a 4-year plan right from the start and get to know the college requirements for a variety of schools your student might be applying to (for example, if you live in California and think you might like to go to a UC school, getting to know the A-G requirements is a must).
Next, understand these four areas that impact course decision making:
Get the minimum graduation requirements from your high school
Ideally, a college bound student has four years of all their core academic subjects, including a language other than English.
Get to know your school's policies about higher level courses, and understand the differences between regular, honors, Pre-AP, AP and IB.
Choose electives that help develop a students interests and strengths.
Some common mistakes people make in course selection include:
Choosing the "easy" courses.
Thinking that it's enough to meet the minimum requirements.
Overloading themselves with too many hard courses.
Allowing too many off periods.
Not being thoughtful and having a plan.
For more information about course selection, listen to the entire podcast and then visit Megan's website at www.collegeprepresults.com.
Podcast: Play in new window | Download
Subscribe: RSS