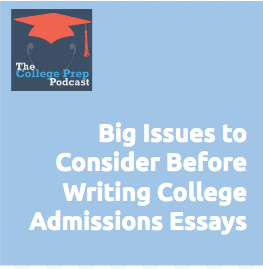 Summer is the best time to write your college admissions essays! So how should you get started?
Megan walks you through four steps including:
Get organized — know what schools, what questions, how many unique essays and short answers you need.
Recognize that HOW you write is as important at WHAT you write.
Be authentic. Colleges want to get to know you, not the person you think they want you to be.
Be strategic. Your essay can be the factor that tips in your favor or a missed opportunity. Spend time strategically looking at what you need to say to make your application complete.
If you want in-depth coaching on how to make your college essays and resume work for you, Megan is offering her summer essay workshop LIVE on Zoom on Saturday, June 20. Better yet, it is on sale. Check it out: https://www.collegeprepresults.com/college-application-essay-coaching/
Podcast: Play in new window | Download
Subscribe: RSS