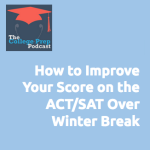 Boost your ACT and SAT scores over winter break!
Megan breaks down exactly what to do every day to improve your scores while you also enjoy the holiday break. She divides studying for these standardized tests into three important categories:
Review important content related to vocabulary, reading, math, grammar, and essays (all ages)
Familiarize yourself with the style of test you are taking (all ages)
Master specific test-taking strategies (juniors in high school)
Although students of any age can get an edge by reviewing content and familiarizing themselves with the test, juniors in high school can pay particular attention to the following:
Review their PSAT scores and test booklets
Take practice tests online
Work through the official full length test books to practice test taking strategies
Decide on and register for the next test (Note: for January 24, 2015 SAT, the registration deadline is December 20, 2014; for the Feb 7 ACT, the registration deadline is January 9)
Listen to the podcast to get more tips and tricks about how to study, how to manage your time, and how to make sure that students never feel left out of the family fun while they are studying.
Links shared in this episode include Khan Academy and Megan's fabulous (and inexpensive!) program to improve your SAT/ACT vocabulary.
Podcast: Play in new window | Download
Subscribe: RSS