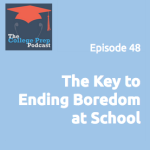 Too often students are bored by their academics, which results in unmotivated students with grades that don't show their true capabilities.
To the rescue: a summer multi-media learning experience that strengthens students' study muscles and helps them become test-taking powerhouses, within a fun & engaging structure.
It's called the Anti-Boring Approach to Powerful Studying, and during this episode Gretchen answer's all Megan's questions about it. Tune in to find out how, in the course of one summer, you'll learn how to:
Finally overcome procrastination and disorganization and take charge of your life
Train your brain so you can learn anything you are taught, no matter how good (or bad) you think your teacher is
Take creative, powerful notes that make key points stick every time
Make studying so interesting and fun that you are 100% ready for every test
Stay motivated and calm in the face of increasing pressure and bust through test anxiety
Rock your final exams and finish stronger than you expected
Nail down your unique study system so that EVERY semester is your best semester ever…for the rest of your life.
Listen to the podcast and then go to www.gretchenwegner.com to learn more about how to participate. If you want to test drive Gretchen's teaching style, check out the free course Learn Anything…Guaranteed!
Podcast: Play in new window | Download
Subscribe: RSS