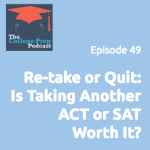 Students and parents often wonderful how many times to re-take the SAT and ACT.
Megan breaks down how to decide what number of repetitions is the right one for you.
Here are the 3 points that Megan discusses in detail in this episode:
How well do you know the content?
How well do you know specific test taking strategies?
How strong is your focus and endurance while taking the test?
Podcast: Play in new window | Download
Subscribe: RSS