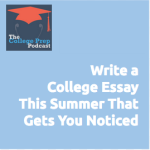 Summer is a great time to get ahead on your college essays.
It is definitely possible to write a captivating piece that gets you noticed by colleges in all the RIGHT ways (and none of the WRONG ones).
Students will benefit from the tips in this episode, but so will parents and teachers. So often, it's the adult guidance we give that actually makes essays worse, not better.
Tune in to hear Megan and Gretchen discuss:
Four tips that will help you write the best essay possible, and
7 things NOT to do when you write your essay
Examples of misguided attempts by English teachers to help students write college essays
Examples of essays that totally worked, and some that totally didn't,
and more!
In the episode, Megan pointed to a few web resources, including:
Let us know if you have any questions!
Podcast: Play in new window | Download
Subscribe: RSS