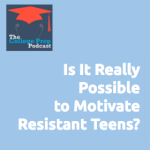 Does your teen resist school? Maybe (s)he consistently blames the teacher rather than take responsibility for low grades?
Teen Motivation Expert Hayden Lee shares some tips for how to motivate teens to reach their full potential at school and in life.
Join Hayden and Gretchen as they discuss:
How to keep teens motivated at school
What to do when a student just doesn't like a certain subject or teacher
How to help teens build better relationships with teachers
What to do with stubborn or resistant teens, and
How to help teens raise their grades
In addition, Hayden recommended the following resources: the book Drive: The Surprising Truth About What Motivates Us, Mindset: The New Psychology of Success, and Colleges That Change Lives.
Hayden Lee is a Certified Academic Life Coach and Teen Motivation Specialist. He empowers students with the tools to stay positive, motivated, and proactive not only in their academics, but also in their lives. He helps young adults link a sense of purpose to their work in order to find passion and fulfillment in what they do. He does this by helping teens gain a deeper self-awareness who they are and what they want in order to identify meaningful goals and how to achieve them. Find out more about him at www.haydenleealc.com, www.facebook.com/alcbyhaydenlee, and on twitter and Instagram at @alcbyhaydenlee
Podcast: Play in new window | Download
Subscribe: RSS