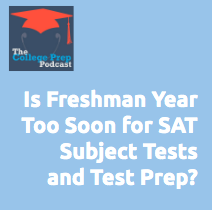 Recently we got a question about when students should take their SAT subject tests. Tune in as Megan answers that question…and provides other tips about test prep for the subject tests.
Here is the exact question the mom Nathalie asked:
My daughter is a HS Freshman taking Honors Biology with a plan to take AP Biology by her senior year. We noticed that some schools (premed programs) that she may be interested in require SAT subject tests in Biology, Chemistry and Math Level I, II, English. She is an A minus student on a 4.0 scale (core only). The SAT website suggests that students take the Subject Tests after completing the class. Do you suggest that she take the SAT Biology Subject Tests after the Honors class, or after her AP exam and class? Also, if my HS Fresh. student is taking Hon. Alg. 2 student and Hon. English, is it too soon to start this summer with SAT/PSAT or ACT test prep? She took PSAT 8/9 and scored 1100 out of 1400. If not, what would be recommended?
We love questions, by the way. Please keep them coming!
Podcast: Play in new window | Download
Subscribe: RSS