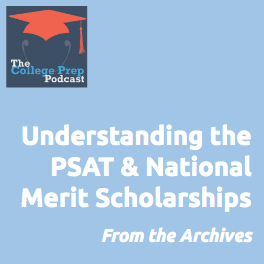 The PSAT is practice for 95% of test takers.
But for the other 5% it is an important test that qualifies students for the National Merit Scholarship competition.
Learn more during this episode about how to tackle the PSAT, whether you're in the 95% or the 5%. Specifically, we will cover:
What is the PSAT and how does it compare to the SAT?
What type of recognition is available for students who score well on the PSAT?
Who is eligible to take the PSAT, and to be in the running for National Merit Scholarships?
What scores to students need to be considered for the Scholarships
What do students win if they get a National Merit Scholarship?
This episode is from our archives. It originally aired as episode 178 on September 18, 2017.
Podcast: Play in new window | Download
Subscribe: RSS