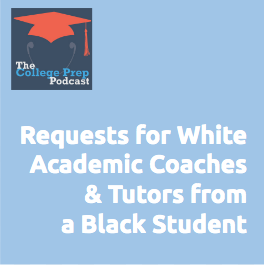 What does one black student wish white academic coaches would know about how to better support him about race?
Recently Gretchen sat down with a former client to have a straightforward conversation about race.
In this excerpt from the longer conversation, listen in as they discuss:
Their coaching relationship
A time when Gabriel had a really hard race-related situation with a teacher,
How Gretchen supported him through that situation, and Gabriel's thoughts about that
If you'd like to access the full hour-long recording (where we hear more details about a few racist situations he encountered in all-white neighborhoods, Gretchen's confession of a time she thinks she committed a microaggression in a session with him, and more), please join the Educators' Club for one month! If you use the code code COLLEGEPREPPODCAST, it will get you into the club for a one time fee of $35, and you'll actually have access to 3-months worth of content in the club. You can cancel your subscription at any time!
Podcast: Play in new window | Download
Subscribe: RSS