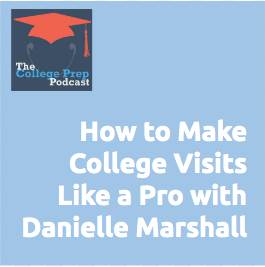 Not sure where to start with visiting colleges? Have you visited a school or two only to get overwhelmed with information?
In today's episode, Megan talks with Danielle Marshall, author of "The College Visit Journal: Campus Visits Demystified." Danielle knows not every family enjoys the guidance of a college admissions expert, so she has created a journal to help guide you through the process.
Listen as we discuss:
The best times to visit campus
Additional stops you should schedule into your campus time
The type of information you should record from your visit (and it isn't just the things you like!)
How to find the right words when making requests from coaches, admissions officers, or professors
How to make virtual tours work for you
What to expect if you are able to make an in-person visit during this pandemic
And more . . .
You can follow Danielle Marshall's blog or purchase her book at www.TheCollegeVisitJournal.com
Podcast: Play in new window | Download
Subscribe: RSS