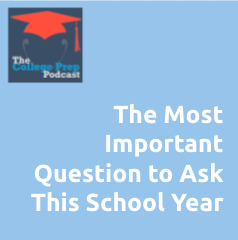 What's the one question we should be asking students, and ourselves, this school year?
Gretchen shares what a simple question that is becoming more and more central in her work with students, educators, and coaches starting their own businesses. The conversation includes:
Why there's no such thing as "busy work"
Why it's important to understand the purpose behind every assignment
Why it saves time, energy and aggravation to reflect on the purpose before taking action
How this advice works for any kind of action, not just school work
How teachers, parents and educators can support students
Want to discover what kinds of learning purposes students can choose from? Check out www.gretchenwegner.com/actionguide.
Got follow up questions for Gretchen about this advice?! If so, she has a new monthly Q&A event coming up. Sign up for the next one at www.gretchenwegner.com/live.
Podcast: Play in new window | Download
Subscribe: RSS