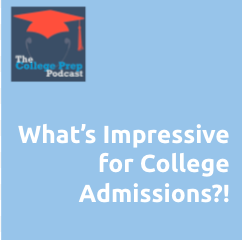 Have you heard of the new AP Capstone experience? Megan shares about what it is, whether it's worth all the work for students and schools, and what's truly impressive for colleges (and what isn't).
This podcast episode was inspired by the following email we received last Spring:
I am a high school counselor. I listen to your podcast to and from work and you've become like friends to me. I would love to hear your opinion on AP Capstone and how impressive it is to selective colleges. I met with a student yesterday who is considering doing it but he is also taking several other AP courses. We haven't had the program for too long and we haven't had very many students become capstone graduates. I have not researched how much of a difference it makes on a student's high school transcript. Thanks for any thoughts…)
Do you have additional questions for Megan or Gretchen? Feel free to email us at collegepreppodcast [at] gmail [dot] com. We'd love to hear from you!
Podcast: Play in new window | Download
Subscribe: RSS