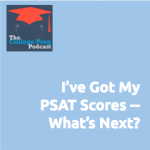 Scores from the October 2015 PSAT and PSAT 8/9 are now available.
Results have been online at CollegeBoard.com since January 7 and today, January 29, high schools should receive individual printed score reports from College Board.
Today Megan and Gretchen discuss:
what to look for on your score report
what information is essential and what you can skip
how you can use the PSAT information to prepare for future tests
what we know (and don't know) about National Merit cutoffs
If you want more information (or just a visual), Megan has a great video explaining PSAT scores on her website: College Prep Results.
Podcast: Play in new window | Download
Subscribe: RSS