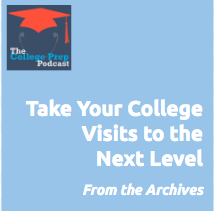 College visits can get repetitive and boring, and the "official" tours offered by the school don't always reveal the hidden details that help you make a decision about which school is best for you.
In this episode from the archives (originally posted in April 2018), let Megan school you on how to take your visits to the next level!
She'll cover:
How early is too early to start taking college visits?
How to go beyond the basic two-hour info session, with tips like eating in the actual cafeteria picking up the school newspaper
How to use college visits to help make the "short list"
Megan will also share some notes from the road, observations based on the college visits her clients and her daughter have done.
Podcast: Play in new window | Download
Subscribe: RSS